SHSC (Scottish Health Service Centre) in Edinburgh is a unique part of NSS (National Services Scotland) that operates successfully in Scotland's extremely competitive conference and events sector. It's one of the family and you'll find the door's always open.
ESTABLISHED MORE THAN 20 YEARS AGO, THE CENTRE'S SERVICES ARE:
Events – conferences, conventions, seminars, exhibitions and training event management
Meetings – a comprehensive admin support service for meetings and events
Venue – a purpose-built conference centre with a dedicated team organising internal and external events.

Ali Coltman, Head of SHSC, said: "We're completely self-funded, therefore our running and staff costs have to be met from client income. That's why our focus is on first-rate customer service. People know that when they come here, the experience is second to none."
As well as NSS customers, SHSC serves health boards, NHS bodies, the Scottish Government, charities, local authorities, training and medical health organisations, plus membership bodies, professional associations and others.
There has been investment in refurbishing parts of the centre, including the reception and a great deal of marketing effort.
"We're flexible on pricing and make sure we're very competitive. Compared to other centres, we offer good value for money. Plus, there are preferential rates for NHS bodies and no VAT to pay," said Ali.
The SHSC ethos focuses on a personal approach. Ali added: "All of our people take great pride in what they do and are there when the customers need them.
For example, venue co-ordinators are on hand throughout the conference centre. If you have a big event, it's reassuring to know there's someone making sure you have everything you need.
"As well as our events and venue services, our meetings team support the Chief Executives' group and look after a range of professional groups such as dental practice boards
community health interest groups and the Medical Directors Association."
Since it's well placed close to the city centre, SHSC is ideal for reaching by all kinds of transport. There are bike stations in place and showering facilities being added this summer. If delegates do have to come by car, there are a limited number of parking spaces that can be booked in advance, plus a location nearby (Carrington Rd) where you can park all day for £3.
In terms of green credentials, SHSC is one of the few venues in Scotland to have received a Gold Award under the Green Business Tourism Award Scheme.
SHSC lives by how it serves its customers. Feedback is recorded by talking to clients, through feedback forms, tweets and emails. Information is gathered to assess customer satisfaction. Recently, that has reached a very high 95-97% and SHSC staff work very hard to maintain that.
There are always new opportunities and Ali and her team are keen to exploit those. They see the social care sector as an area of growth, have recently signed a partnership agreement with the Digital Health Institute (an independent body that explores innovative solutions for healthcare).
David Knowles, Director of Practitioner and Counter Fraud Services, within NSS, said: "SHSC is an excellent first choice for meetings, events and conferences."
Anyone who does choose SHSC is following in the footsteps of some very satisfied customers. Ali said: "We attract a large amount of repeat business. We have been working with some of our customers for more than 10 years. People tend to come back to us because they get great service, support and facilities."
The message is clear – make this member of the family your first port of call before you go anywhere else.
More information
Follow SHSC on Twitter – @SHSCscot
Rooms, technology and great rates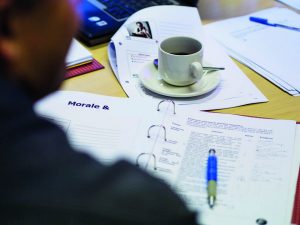 At its site next to the Western General Hospital in Edinburgh, SHSC has six different rooms. The two largest take a maximum of 110 people in theatre style. Others range from 30/35 theatre style to 14 around a boardroom table.
Jon Keast, Venue Manager, said: "Spaces can be arranged into any format. We have all the necessary technical back up – video and tele-conferencing, webex, wi-fi and so on. And not only do we have up-to-date kit, we also have the people who know how to work it. When you come to SHSC, you won't have to worry about whether the equipment is going to work, or if there is the necessary support."
The Centre also has in-house catering that serves all dietary requirements. Notably, food is secured through contracts negotiated by National Procurement.
Jon added: "We're open all hours, seven days a week, and can even offer accommodation. We have good relationships with two nearby hotels and that allows us to obtain preferential rates for guests."
Helping you plan for any and every event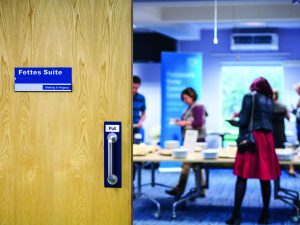 When you're planning any type of event, especially one that's customer-facing or high profile, it's sensible to use a professional events service – just like the one at SHSC. The team stages between 50 and 70 events a year. These range from small one-day events taking place across Scotland to one-off international events attracting up to 800 people.
"We use external facilities, both national and international," said Cheryl Goff, Events Manager. "In fact, we regularly organise a large annual event in
Stockholm. Our service goes beyond simply organising the event. We handle all sorts of factors from exhibition management to sponsorship targeting and accommodation.
"And we can provide a tailored service if, for example, customers only need a specific element such as delegate management."
The team also provides a successful venue-finding service that continues to grow – recent clients to come on board include The Scottish Ambulance Service and Health Improvement Scotland.
What the customers say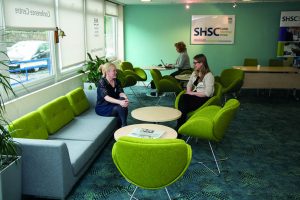 "I would like to thank you all for helping to make the GAPC conference the huge success it was. All the feedback we've had to date has been hugely complimentary and you guys were brilliant in the way you handled everything..."
Bruce Miller, Financial Controller, Alcohol Focus Scotland
"Thank you for all your support in the lead up to the event and on the day. You did so much to help us make sure everything went smoothly, especially with all our technology requirements. Thank you especially for being on hand throughout the event. I don't think the day would have gone anywhere near as well without your help!"
Royal College of Speech & Language Therapists